Yo, read this! All the way to the end, even if you think I'm a jerkface.
My friend emailed about his repair costs for his BMW and was like, "FML" at the end. So I replied with this: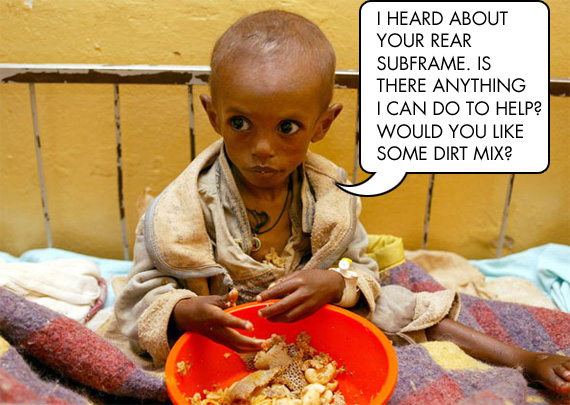 And then my buddy Pat started posting on old posts on this site for no reason so I emailed him this: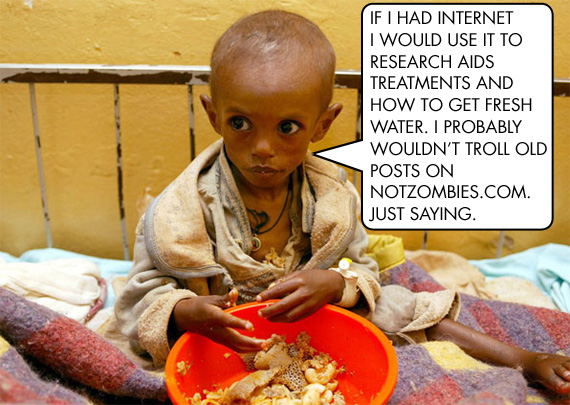 And then Anny emailed about our plans to get Thai food and then go curling so I replied with this: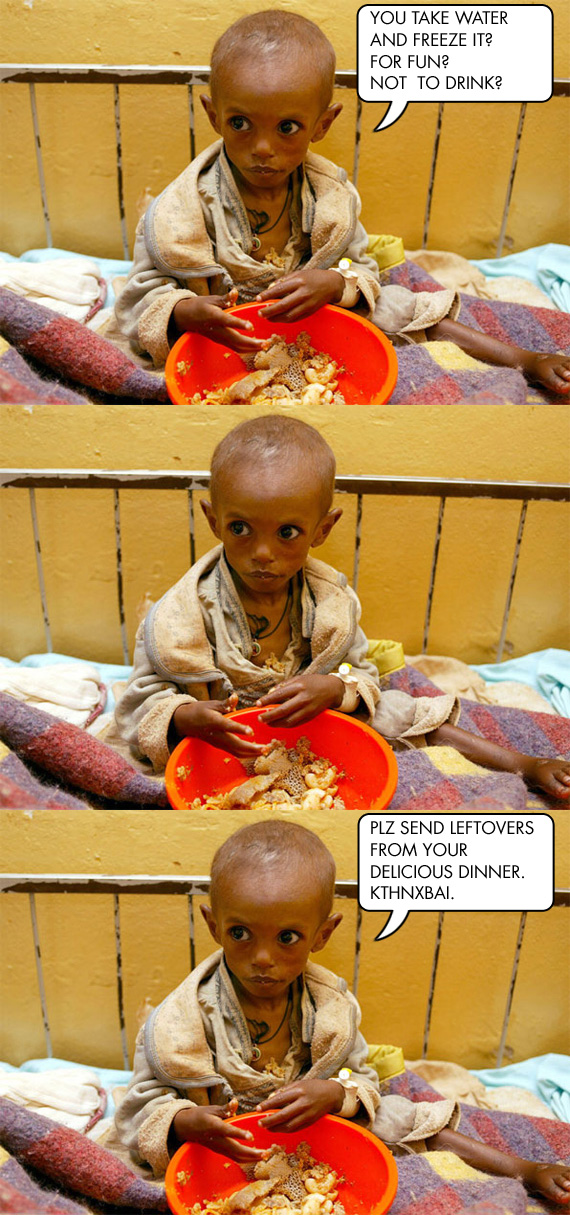 AND THEN! Fidel's friend Teeney tweets about how Fidel ordered a fucking pancake to get before his hamburger (by the way, awesome) and I was like, if ever there was an opportunity: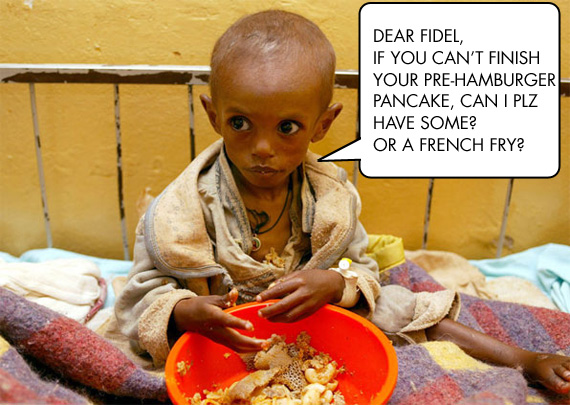 It's so easy! I just left Photoshop open all day.
But now I feel guilty over exploiting this picture of this sad child. So I'm donating $25 to charity:water and $25 to (red)/The Global Fund to alleviate my guilt. And here's why you should too:
-Almost a billion people on the planet don't have access to clean drinking water. Unsafe water and a lack of basic sanitation cause 80% of all disease and kill more people than all forms of violence, including war. A water project costs an average of $5,000 and can serve a community of 250 people for 20 years. That breaks down to $20 to bring water to one person for 20 years. With charity:water, all of their operating and admin costs are paid for by private donors (hi, Matt Damon!) so the donations of us common people go directly to setting up water systems in the field. BOOM.
-Everyday over 3,600 people in Sub-Saharan Africa die of AIDS. That's just stupid. Proceeds from the (red) program are used by The UN's Global Fund to run AIDS prevention and treatment programs. Until we learn how to harvest Magic Johnson's blood for the cure, this is the best we can do, people.
-If you donate, check with your employer to see if they match funds. You could double or triple your donation. Yeah, I said it.
-It's tax deducable. I ain't no financialist, but if i wuz, i'd be all like, deducing these from taxes for phat benjies.
Dammit. I still feel guilty. So I just donated another $25 to Malaria No More. Mosquito nets. BOOM.
Tell 'em Bobby Bottleservice!